Flow M70/100/150
With the Flow M forced ventilation units, the HRV disappears into a cleverly designed cabinet which can be mounted on the perimeter wall.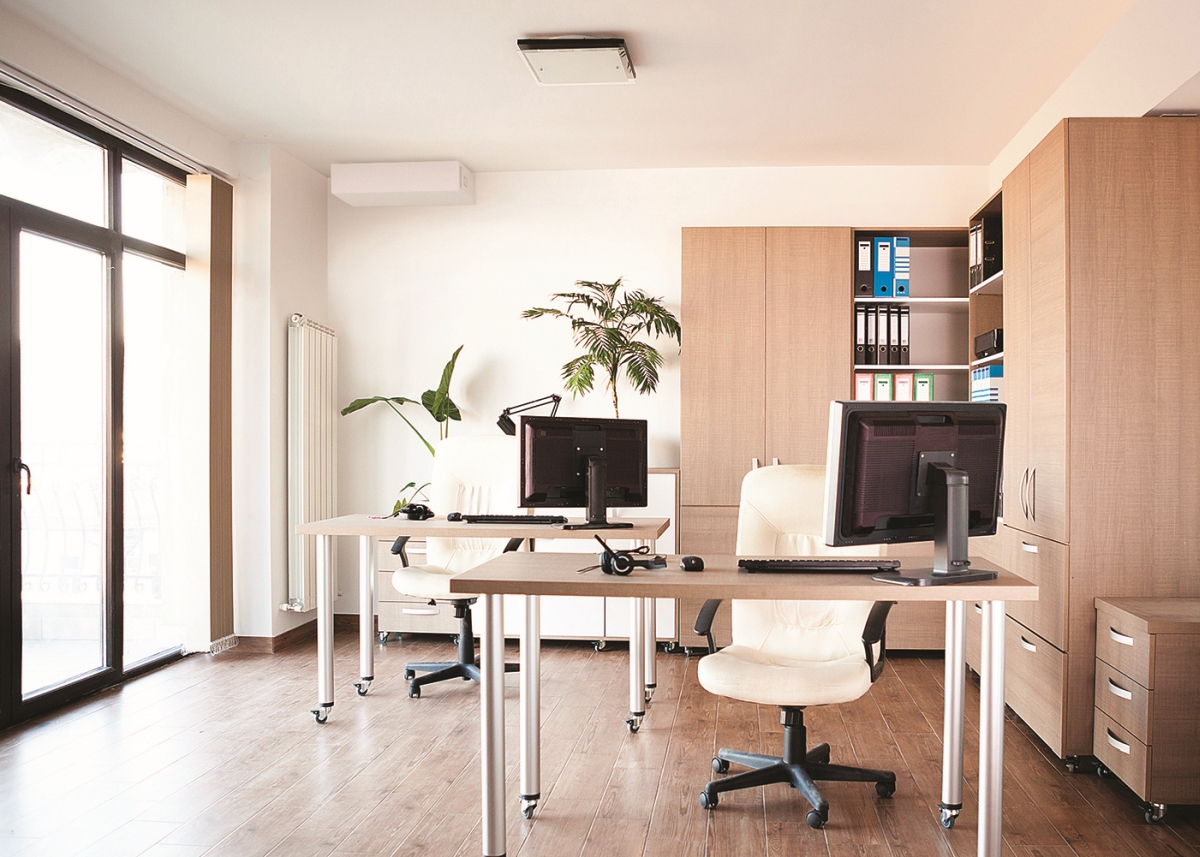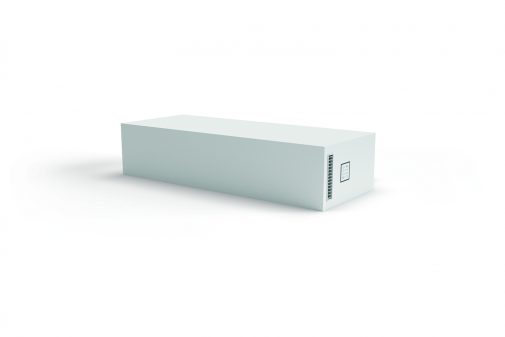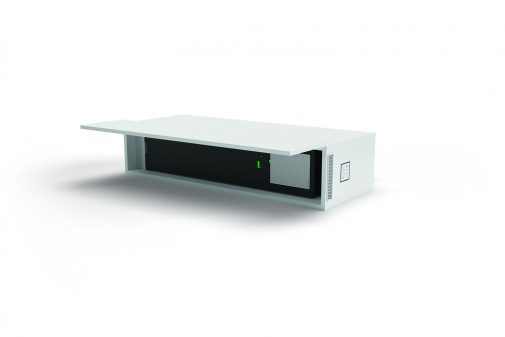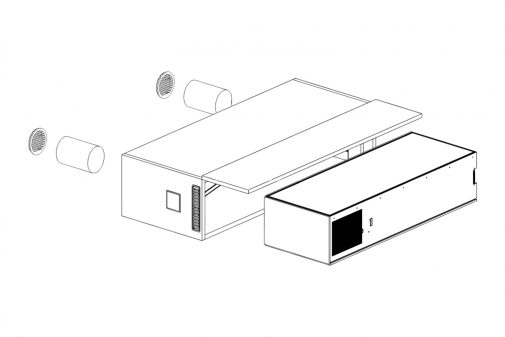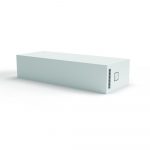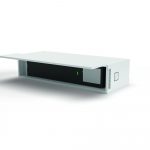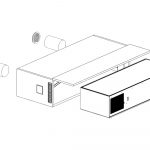 Mechanical ventilation on designer furniture
The Helty Flow cabinet series offers decentralised ventilation units with air flow rates of 70, 100 or 150 m³/h, designed for installation in open-plan spaces and lofts, offices, professional studios, schools and public indoor areas. The dual-flow HRV is completely hidden in a hanging cabinet with white lacquered finish, a lift-up front panel for machine, and ventilation vents placed on the sides of the floating unit.
Air exchange up to 150 m³/h
Minimalist and intelligent design
Mechanical ventilation solution for residential and tertiary environments, with Helty Flow HRV installed in a floating wall cabinet.
For healthier and more productive environments
Fitted with a double F7/G4 filter as standard, the Flow M HRV cabinet systems purify the outdoor air to remove bacteria, pollutants, pollen and PM10 and PM2.5 fine particulate before delivery into indoor spaces. The ventilation machines – sized at 70, 100 and 150 m³ per hour – are fitted with a hygrometric sensor as standard for monitoring air humidity. Pure versions also feature an IAQ sensor to monitor CO2 and VOC and keep the environment healthy and comfortable by removing stale air and diluting indoor pollutants.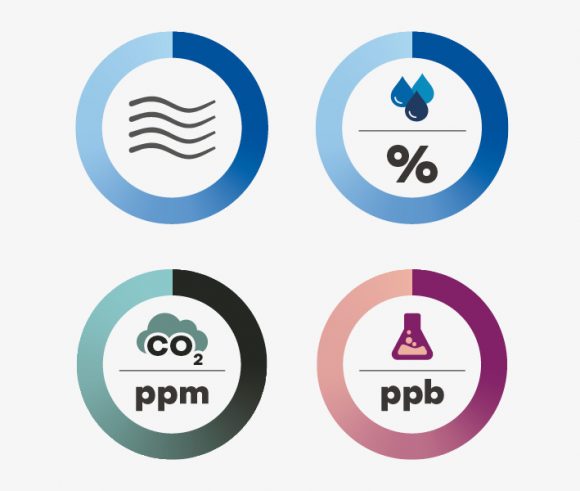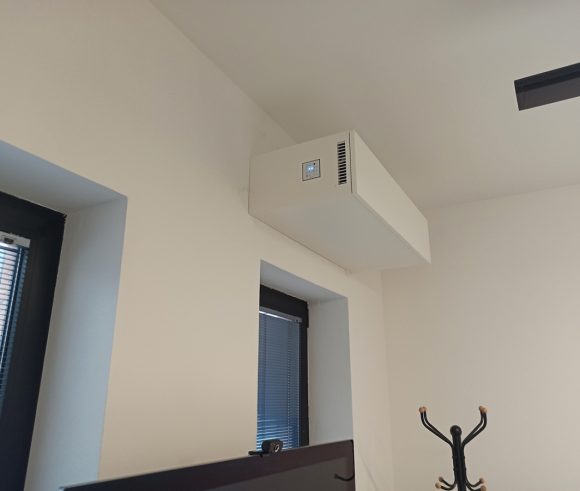 Plug-in ventilation within a furnishing
Helty Flow furniture systems can be integrated into existing buildings through retrofits, without the need for ducting and invasive masonry works. Installing the HRV units requires two 100mm cores on the building's perimeter wall and connection to the power supply. The fact that the the system is decentralised has an additional advantage in terms of cleaning: all you need to do is replace the filter when the alerted by the machine.
Optimal ventilation and energy efficiency
Thanks to the enthalpy heat exchanger, these HRV systems use 90% of the heat recovered from the outgoing air to heat the incoming air. This avoids the temperature changes and heat loss caused by opening windows for normal room ventilation, which means savings on heating and air conditioning costs.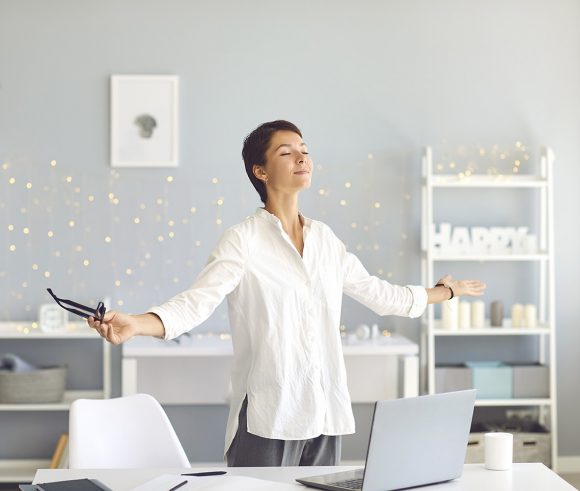 ---
Dati tecnici
Caratteristiche
U.M.
Valore
Airflow
m³/h
40/60/80/120/150 (1)
Airflow adjustment
4 settings + high-speed ventilation
Power consumption (2)
W
11.3/20/31/59.2/86
Supply voltage
V AC
230
Operating voltage
V DC
24

| | | |
| --- | --- | --- |
| Max. current consumption (3) | A | 1.2 |
| HRV unit weight | kg | 10 |
| Cabinet weight | kg | 19 |
| Cabinet dimensions (H x L x P) | mm | 1090 x 245 x 445 |
| Heat exchanger | | enthalpy cross-counter flow |
| Heat recovery efficiency | | 87 |
| Sound pressure level (4) | dB(A) | 32.6/34/35.3/46.8 |
| Filters | | F7 / G4 |
| Energy class | | A+ / A / E |
| SEC | kWh/m2a | -68.6 / -34.1 / -11.7 |
| Filter replacement alert | | indicator on unit + App |
1. In high-speed ventilation mode2. excluding UV lamp3. With 230 V AC supply voltage4. Measured on a 30 m² semi-anechoic environment at a distance of 3 m
Mostra tutti
---
---
Are you interested in offering our products to your customers? Find out how we can work together
Become a reseller