What are the hole measurements for a wall-mounted CMV?
The installation templates for Helty Flow wall-mounted CMV models are available for download in the reserved area and include holes distances, coring dimensions and overall dimensions.
For correct installation of wall-mounted CMVs (Easy, Plus and Elite models) and the layout of the perimeter wall through-holes, please refer to the installation templates supplied with the product purchased. Templates in 1:1 scale can also be requested separately before purchase; PDF files are available for download by registering in the website reserved area.
The installation template details the dimensions required for the ventilation unit and cover, the dimensions for the correct positioning of the 80mm or 100mm core holes, indications for the horizontal (recommended) or vertical orientation of the CMV system, as well as the recommended minimum distances to the sides and above/below the CMV unit for optimal ventilation management.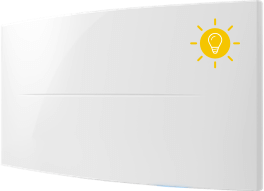 FlowELITE
With humidity, CO2 and VOC sensors. LED light kit and app control.