Is CMV eligible for the 110% Superbonus deduction?
CMVs are eligible for the 110% Superbonus deduction if the system is intended to prevent the formation of mould or condensation and the problem is not otherwise preventable. CMVs are also eligible for the incentive when used to replace a winter air conditioning system with an air system and are closely integrated into the original.
The terms of CMV eligibility for the 110% Superbonus were indicated in Enea F.A.Q. 16D dated 14 May 2021, to which we refer for the full and detailed text.
In summary, controlled mechanical ventilation (CMV) systems can be included in the 110% Superbonus if they are installed as part of a building system replacement or insulation programme (...speaking of coats, have you seen Helty's patented Flow Manhattan system?)
With regard to insulation, Enea deems that if, considering the number of natural ventilation points required by the UNI-TS 11300-1 standard and providing as far as possible for the correction of thermal bridges, the risk of mould or condensation persists, then CMV systems represent a viable technical solution. In these cases, the installation of a CMV system is incentivised with the 110% Superbonus if carried out in conjunction with the insulation of the opaque surfaces.
The designer must attach a report to the declaration demonstrating that the CMV is a viable technical solution to prevent the formation of mould or interstitial condensation according to UNI EN ISO 13788.In any case, an essential condition is that the installed CMV must guarantee energy savings as certified in a qualified technician's report attached, as an integral and substantial part, to the declaration required for the purposes of the 110% Superbonus.
Therefore, only heat recovery CMV systems are eligible for the Superbonus and ordinary Ecobonus.
There is no specific spending limit, but if the CMV system is included to prevent mould or condensation, it must fall within the limit of insulation expenses.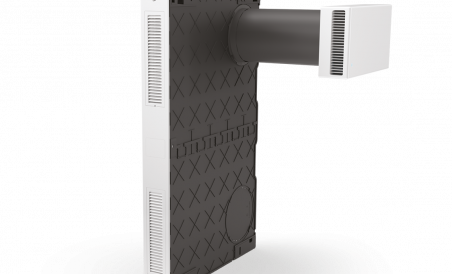 Flow MANHATTAN
Invisible HRV installed in exterior insulation. Air flow rate up to 70 m³/h