How do I install a concealed CMV, like the Flow40?
Installing a concealed CMV system requires a creating a recess in the perimeter wall where the ventilation system will be positioned, which needs to served by the power supply. The hole dimensions are available in a reserved area.
Preparing the installation of the concealed Helty Flow CMV consists of three steps:
1. creating a rectangular hole in the wall as per the dimensions required by the type of machine to be installed (sheets available on the product page and in the reserved area);
2. installing the EPS housing in the wall (including external vents) and sealing the EPS housing border with flexible polyurethane foam;
3. inserting the CMV unit and connecting to the power supply; positioning the internal cover as selected (plexiglass or sheet metal cover).For more details see the instruction manual (also available in the reserved area).Significantly, the preparatory housing can be pre-integrated into the masonry during the construction phase and later completed with assembly of the CMV unit and cover.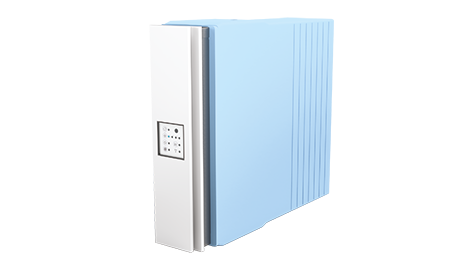 Flow40
The most compact concealed HRV system. With humidity sensor as standard.